Tagliatelle Alla Bolognese Di Mio Nonno
Tagliatelle With Bolognese
About This Recipe
Are you looking for a delicious beef recipe with a difference? If you are, you've found it! Here's my tagliatelle with bolognese for you to enjoy.
This is the real thing. The genuine ragù, as it is made in Bologna, is a mouthwatering meat sauce that includes different types of mince, including pork and beef, slowly cooked in a tomato and vegetable sauce. In Italy, this sauce is only ever served with broad, flat pasta such as tagliatelle or fettuccine and never with spaghetti.
Ingredients
2 Tablespoons Olive Oil
1 Onion, Very Finely Diced
2 Celery Sticks, Very Finely Diced
1 Carrot, Very Finely Diced
500g Minced Pork
500g Minced Beef
50ml Red Wine
50ml Milk
4 Tablespoons Tomato Purée
300ml Passata
400ml Chicken Or Vegetable Stock
500g Fresh Tagliatelle
To Serve (Optional) Parmesan Shavings
Weight Converter
Found in This Book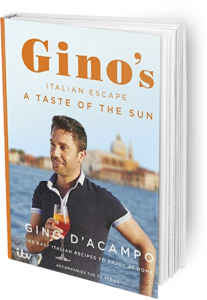 Feast your eyes on the finest tagliatelle with bolognese! It's straightforward and fun to make this great dish. Simply follow the instructions below and get the perfect result.
Step By Step
Heat half the oil in a large sauté pan and fry the onion, celery and carrot for 5 minutes until soft and starting to colour.
While the vegetables are cooking, put all the meat in a large bowl, pour over the remaining olive oil and crumble the meat between your fingertips. Add the meat to the pan and fry until brown – around 5 minutes.
Deglaze the pan with the red wine and allow to simmer for a couple of minutes, then add the milk. Simmer for 2 minutes before stirring in the tomato purée, passata and stock. Simmer gently for 3 hours until reduced and thickened. Once cooked, remove from the hob, season with salt and pepper then cover with a lid and leave for 20 minutes – you do not want the sauce to be boiling hot when you serve it.
When ready to serve, bring a large pan of water to the boil and season generously with salt. Add the pasta to the pan and cook for 2–3 minutes or until just cooked. Drain the pasta, then return to the pan with the sauce and toss to combine.
Serve in bowls with a few Parmesan shavings scattered over, if you like. Enjoy!
Once you're done, simply sit back and enjoy your tagliatelle with bolognese and don't forget to check out other great authentic Italian recipes including great antipasti recipes, Italian pasta recipes, Italian soup recipes, Italian beef dishes and authentic pizza recipes.
Previous Recipe
Pasta Ribbons with Prawns and Rocket
View Recipe