Banane Al Caramello
Sticky Banana and Chocolate Tart
About This Recipe
Are you looking for a delicious chocolate recipe with a difference? If you are, you've found it! Here's my sticky banana and chocolate tart for you to enjoy.
What a fantastic way to end a meal. So far, I don't think I've met anyone, especially children, who doesn't like this recipe. I promise you that once you've made this dish and realise how easy it is to do, it will become a favourite. My tip would be to make sure that you bake the tart in the middle of a preheated oven to avoid the pastry burning. If you have to, you can replace the bananas for firm large pears, peeled and cut in half.
Ingredients
50g Salted Butter
120g Golden Caster Sugar
6 Bananas, Large, Firm & Peeled
100g Chocolate Chips
250g Puff Pastry, Ready-to-Roll
For Dusting Plain Flour
1 Tub Vanilla Ice-Cream, To Serve
Weight Converter
Found in This Book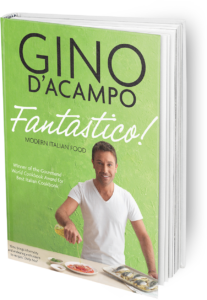 Feast your eyes on the finest sticky banana and chocolate tart! It's straightforward and fun to make this great dish. Simply follow the instructions below and get the perfect result.
Step By Step
Melt the butter with the sugar in a deep-sided, heavy-based frying pan that can be used in the oven. Cook over a medium heat for about 5 minutes until it turns into golden caramel. Remove from the heat and set aside to cool slightly. Preheat the oven to 200°C/400°F/gas mark 6.
Place the whole bananas in the pan creating a circle, breaking as necessary, ensuring that the entire base is covered. Sprinkle over the chocolate chips.
Meanwhile, unroll the puff pastry onto a floured surface and cut a disc shape about 25cm diameter, or about 5cm bigger than the top of your pan.
Lay the pastry over the bananas and tuck the overlap down inside the pan with your fingers.
Bake the tart for 20–25 minutes or until the pastry is golden brown. Remove from the oven and set aside to cool for about 5 minutes.
Take a large circular plate and place face down on top of the pan. Quickly invert the pan to turn the tart upside down. Remove the pan, leaving the bananas facing upwards.
Serve generous portions with vanilla ice cream.
Once you're done, simply sit back and enjoy your sticky banana and chocolate tart and don't forget to check out other great authentic Italian recipes including great antipasti recipes, Italian pasta recipes, Italian soup recipes, Italian beef dishes and authentic pizza recipes.
Previous Recipe
Chocolate & Fresh Strawberry Cake
View Recipe
Next Recipe
Baked Peaches Stuffed With Amaretti Biscuits, Walnuts & Raisins
View Recipe