Torta Speziata Con Uva E Scorza D'Arancia
Spiced Grape Cake With Orange Zest
About This Recipe
Are you looking for a delicious grapes recipe with a difference? If you are, you've found it! Here's my spiced grape cake with orange zest for you to enjoy.
Grape cake is a rustic Italian bake, which is traditionally made during the grape harvest when the fruits are in abundance. It can be eaten at any time of day – even as a dessert with a glass of Vin Santo. The combination of butter and oil makes this a really light cake and very, very moreish.
Ingredients
75g Salted Butter, Softened
150g Light Muscovado Sugar
2 Medium Eggs
1 Orange Grated Orange Zest
1/2 Teaspoon Nutmeg
1 Teaspoon Ground Cinnamon
50ml Semi-Skimmed Milk
120ml Olive Oil
150g Plain Flour
1 Teaspoon Baking Powder
150g Red Seedless Grapes, Halved Lengthways
2 Heaped Tablespoons Demerera Sugar
Weight Converter
Found in This Book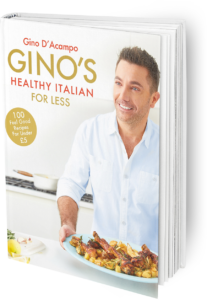 Feast your eyes on the finest spiced grape cake with orange zest! It's straightforward and fun to make this great dish. Simply follow the instructions below and get the perfect result.
Step By Step
Preheat the oven to 170ºC/gas mark 3 and line a 20cm round loose-bottomed cake tin with baking parchment.
Whisk the butter and sugar together in a medium bowl until creamy and well combined. Whisk in the eggs, one at a time. Add the orange zest, nutmeg and cinnamon, pour in the milk and olive oil and whisk to combine.
Tip in the flour and baking powder and give it a final beat.
Pour the mixture into the prepared tin and evenly scatter over the grapes. Sprinkle with the demerara sugar and bake in the oven for 45 minutes or until a skewer inserted into the cake comes out clean. Remove from the oven and leave in the tin to cool.
Once cool, remove from the tin and slide onto a serving plate. Serve with your mid-morning coffee or afternoon tea.
GINO'S TIP: Make sure the grapes are all dry before you add them so that they don't sink to the bottom of the cake.
Per serving
Kcal 329
Fat 19g
Saturates 6g
Carbs 34g
Sugars 23g
Fibre 1g
Protein 3g
Salt 0.31g
Once you're done, simply sit back and enjoy your spiced grape cake with orange zest and don't forget to check out other great authentic Italian recipes including great antipasti recipes, Italian pasta recipes, Italian soup recipes, Italian beef dishes and authentic pizza recipes.