Spiedini di Agnello
Skewered Marinated Lamb with Rosemary & Mint
About This Recipe
Are you looking for a delicious lamb recipe with a difference? If you are, you've found it! Here's my skewered marinated lamb with rosemary & mint for you to enjoy.
Often people have this misconception that you can only make meat skewers in the summer and cooked on a BBQ – this is not the case.  Make sure once the skewers are ready to be cooked that your griddle pan is very very hot to enable the meat not to get stuck to the pan.  Use sirloin steak if you prefer and if you don't like mushrooms substitute it with shallot onions.
Ingredients
150g natural yogurt
1 tablespoon ready-made mint sauce
1 tablespoon chopped rosemary leaves
180g lean lamb, cut into 3cm cubes
6 medium button mushrooms
1 small red onion, quartered
salt and freshly ground black pepper
4 metal skewers (or use wooden ones soaked in cold water)
Weight Converter
Found in This Book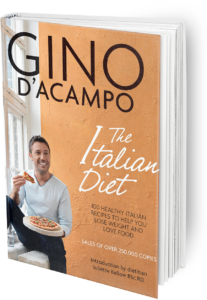 Feast your eyes on the finest skewered marinated lamb with rosemary & mint! It's straightforward and fun to make this great dish. Simply follow the instructions below and get the perfect result.
Step By Step
Mix together the yoghurt, mint sauce and rosemary in a large bowl and season with salt and pepper. Add the lamb and mix well to ensure that each piece is coated with the marinade. Leave to marinate at room temperature for 10 minutes.
Preheat a griddle pan until hot or, if you prefer, a barbecue. Thread the lamb on four metal skewers alternating each piece with the onions and mushrooms.
Cook the lamb on a hot griddle pan or barbecue for 3–4 minutes, turning the meat to ensure that each side is coloured. Serve hot.
Once you're done, simply sit back and enjoy your skewered marinated lamb with rosemary & mint and don't forget to check out other great authentic Italian recipes including great antipasti recipes, Italian pasta recipes, Italian soup recipes, Italian beef dishes and authentic pizza recipes.
Previous Recipe
Quick Mussel Stew with Saffron & White Wine
View Recipe
Next Recipe
Chicken and Chorizo Salad With Beans and Rocket Leaves
View Recipe