Rigatoni all'Arrabbiata con Salmone
Rigatoni in Spicy Tomato and Salmon Sauce
About This Recipe
Are you looking for a delicious salmon recipe with a difference? If you are, you've found it! Here's my rigatoni in spicy tomato and salmon sauce for you to enjoy.
Arrabbiata means 'angry' in Italian, and I guess they used it to name this dish because of the heat of the chilli peppers in the sauce. The spicier the better for me, but be careful in Italy when asking for this traditional dish to be extra spicy – they will take you at your word. In this recipe the rigatoni can be replaced with penne or any other pasta shape, if you prefer. Just get cooking – it's delicious.
Ingredients
6 tablespoons extra virgin olive oil
2 garlic cloves, peeled and finely sliced
2 medium-hot red chillies, deseeded and finely sliced
2 x 400g tins chopped tomatoes
3 tablespoons freshly chopped flat leaf parsley
400g salmon fillet, cut into 1cm cubes
500g rigatoni
to taste salt
Weight Converter
Found in This Book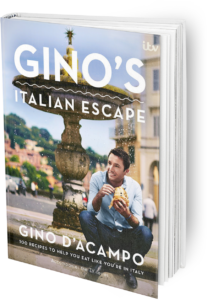 Feast your eyes on the finest rigatoni in spicy tomato and salmon sauce! It's straightforward and fun to make this great dish. Simply follow the instructions below and get the perfect result.
Step By Step
Heat the oil in a large frying pan or wok over a medium heat and stir-fry the garlic and chillies with a wooden spoon for about 1 minute until sizzling.
Add the tomatoes and parsley, stir well and simmer gently, uncovered, for 10 minutes, stirring every couple of minutes.
Carefully stir in the salmon and season with salt. Remove from the heat and set to one side.
Meanwhile, cook the pasta in a large pan of boiling, salted water until al dente. Drain well and tip it back into the same pan.
Place the pan over a low heat, pour in the sauce and stir for 30 seconds to allow the flavours to combine properly. Serve immediately.
Once you're done, simply sit back and enjoy your rigatoni in spicy tomato and salmon sauce and don't forget to check out other great authentic Italian recipes including great antipasti recipes, Italian pasta recipes, Italian soup recipes, Italian beef dishes and authentic pizza recipes.
Previous Recipe
Italian Beans with Rosemary on Garlic Toasts
View Recipe
Next Recipe
Cannelloni with Pesto and Béchamel Sauce
View Recipe