Rigatoni con asparagi, piselli e funghi
Rigatoni with peas and porcini mushrooms in a creamy asparagus sauce
About This Recipe
Are you looking for a delicious vegetables recipe with a difference? If you are, you've found it! Here's my rigatoni with peas and porcini mushrooms in a creamy asparagus sauce for you to enjoy.
For anybody who isn't a big fan of rich tomato sauces this has to be the perfect pasta recipe if you still want bags of flavour on your plate. This dish is so full of fresh ingredients that even though it's in a creamy sauce it doesn't feel heavy. I must admit that every time I make this for a vegetarian they utterly love me – so it must be good.
Ingredients
400g asparagus
50g salted butter
200g frozen peas, defrosted
30g dried porcini mushrooms, soaked in warm water for 15 minutes and drained
2 leeks, washed and cut into 0.5cm slices
200ml double cream
3 tablespoons freshly chopped flat leaf parsley
2 pinches smoked paprika
500g rigatoni
60g freshly grated Pecorino cheese
to taste salt
Weight Converter
Found in This Book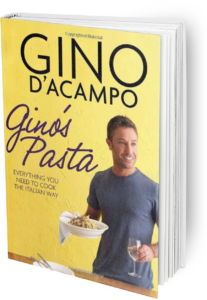 Feast your eyes on the finest rigatoni with peas and porcini mushrooms in a creamy asparagus sauce! It's straightforward and fun to make this great dish. Simply follow the instructions below and get the perfect result.
Step By Step
Use a potato peeler to scrape the asparagus stalks, discarding the woody ends. Chop the stalks into 2cm long pieces. Drop into a medium saucepan of boiling salted water and cook for 2 minutes. Drain and immediately refresh under cold running water to prevent them from discolouring. Set aside.
Melt the butter in a large frying pan over a medium heat. Add the peas, mushrooms, leeks and asparagus and fry for 5 minutes, stirring occasionally with a wooden spoon.
Pour in the cream and continue to cook for a further minute, stirring continuously.
Mix in the parsley and paprika, season with salt and set aside.
Meanwhile cook the pasta in a large saucepan of boiling salted water until al dente. Drain and tip back into the same pan.
Pour in the asparagus sauce and stir everything together for 30 seconds to allow the flavours to combine.
Divide between four serving plates, sprinkle over the Pecorino cheese and serve immediately.
Once you're done, simply sit back and enjoy your rigatoni with peas and porcini mushrooms in a creamy asparagus sauce and don't forget to check out other great authentic Italian recipes including great antipasti recipes, Italian pasta recipes, Italian soup recipes, Italian beef dishes and authentic pizza recipes.
Previous Recipe
Italian Sausages with Braised Lentils
View Recipe