Pastiera
Raspberry & Orange Baked Cheesecake
About This Recipe
Are you looking for a delicious recipe with a difference? If you are, you've found it! Here's my raspberry & orange baked cheesecake for you to enjoy.
This is quite an old-fashioned recipe from my home patch, and I must admit, I wasn't a huge fan of it when growing up (probably because of all the fruit and lack of chocolate), but now I really appreciate all the flavours and how well they work together. My grandfather, Giovanni, used to make this at Easter and now I carry on the tradition.
Ingredients
Butter for greasing
2 tablespoons orange liqueur
600g cream cheese, at room temperature
180g caster sugar
3 eggs, lightly beaten
1 teaspoon orange flower water
3 tablespoons plain white flour
Grated zest of 1 orange
80g candied fruits, finely chopped
200g raspberries
Icing sugar to decorate
Weight Converter
Found in This Book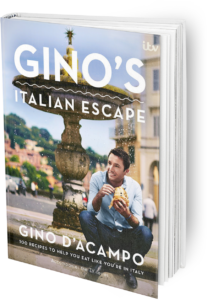 Feast your eyes on the finest raspberry & orange baked cheesecake! It's straightforward and fun to make this great dish. Simply follow the instructions below and get the perfect result.
Step By Step
Preheat the oven to 180ºC/gas mark 4. Butter a 23cm springform cake tin.
In a large bowl, beat together the orange liqueur, cream cheese and caster sugar. Beat in the eggs bit by bit until fully combined. Mix in the orange flower water, then add the flour and orange zest. Beat well until everything is combined. Fold through the candied fruits and raspberries.
Spoon the mixture into the prepared tin, tapping it against the work surface to remove any bubbles. Bake in the middle of the oven for 35 minutes until the edges of the cake are firm but the centre is still slightly wobbly. Set aside to cool for 30 minutes.
Run a sharp knife around the edge of the cake to loosen it, then remove it from the tin.
Serve with a little icing sugar sprinkled on top.
Once you're done, simply sit back and enjoy your raspberry & orange baked cheesecake and don't forget to check out other great authentic Italian recipes including great antipasti recipes, Italian pasta recipes, Italian soup recipes, Italian beef dishes and authentic pizza recipes.
Previous Recipe
Polenta Cake with Oranges & Cointreau
View Recipe
Next Recipe
Strawberry & Mascarpone Tarts with Limoncello
View Recipe