Coniglio alla cacciatore
Rabbit in white wine, rosemary, olive and tomato sauce
About This Recipe
Are you looking for a delicious rabbit recipe with a difference? If you are, you've found it! Here's my rabbit in white wine, rosemary, olive and tomato sauce for you to enjoy.
Many people might be nervous about cooking rabbit, but actually, if you get your butcher to cut the meat into pieces, it's just like handling any other meat. The flavour of rabbit does give you a fantastic alternative to the traditional meat options. Northern Italians are huge fans of rabbit and in the past would have used wild animals, but nowadays most rabbits eaten in Italy are farmed – and to be honest these really are the best for cooking because they are tender and fatty, whereas the wild ones can sometimes be very tough. Give this dish a try – you won't be disappointed.
Ingredients
1 rabbit, cut into 12 pieces
100g plain white flour
to taste salt and freshly ground black pepper
150ml olive oil
3 carrots, peeled and finely chopped
3 celery sticks, finely chopped
2 tablespoons fresh rosemary leaves, finely chopped
1 large red onion, peeled and finely sliced
100ml white wine
2 x 400g tins chopped tomatoes
150g pitted Taggiasca black olives, drained and halved
5 tablespoons fresh flat leaf parsley, chopped
Weight Converter
Found in This Book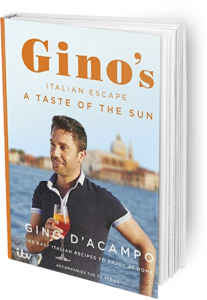 Feast your eyes on the finest rabbit in white wine, rosemary, olive and tomato sauce! It's straightforward and fun to make this great dish. Simply follow the instructions below and get the perfect result.
Step By Step
Preheat the oven to 160°C/gas mark 3.
Place the rabbit pieces in a large bowl with the flour and plenty of salt and pepper. Give it a good shake and transfer the rabbit to a plate. Heat the olive oil in a large frying pan and fry the rabbit pieces until browned on all sides. Remove with a slotted spoon and set aside.
Add the carrots, celery, rosemary and onion to the frying pan, season with salt and pepper and cook on a medium heat for 8 minutes until softened. Stir occasionally with a wooden spoon. Pour in the wine and continue to cook for a further 2 minutes to allow the alcohol to evaporate. With a wooden spoon, scrape all the good bits off the bottom of the frying pan. Pour in the chopped tomatoes with a glass of water and the olives and bring to the boil.
Transfer the sauce to an ovenproof dish and add the rabbit pieces. Cover with foil or a lid and cook in the oven for 1½ hours until the rabbit is tender and the sauce has thickened.
Before serving, season with salt and pepper and sprinkle over the parsley. Serve in a large warm serving dish with plenty of crusty bread around it. Buon appetito!
Once you're done, simply sit back and enjoy your rabbit in white wine, rosemary, olive and tomato sauce and don't forget to check out other great authentic Italian recipes including great antipasti recipes, Italian pasta recipes, Italian soup recipes, Italian beef dishes and authentic pizza recipes.
Previous Recipe
Potato and roasted pumpkin gnocchi
View Recipe
Next Recipe
Leek, Taleggio and Pine Kernel Risotto
View Recipe