Pizza Volante ai Salumi
Pizza Stuffed with Mascarpone, Salami Milano, Bresaola and Parma Ham
About This Recipe
Are you looking for a delicious pork recipe with a difference? If you are, you've found it! Here's my pizza stuffed with mascarpone, salami milano, bresaola and parma ham for you to enjoy.
Meat, meat and more meat – I love this pizza. The use of three different hams with cheese is delicious. Making that first cut into the pizza and enjoying all the flavours oozing out is worth any amount of time you spent preparing it. Picture after a hard day's work eating this dish with a large glass of red wine – it's the perfect ending to any day. If you prefer, add in mozzarella to get that extra gooey cheesy flavour.
Ingredients
200g strong white flour plus extra for dusting
7g fast-action dried yeast
pinch of salt
140ml water, warm
3 tablespoons extra virgin olive oil plus extra for brushing
for the stuffing
200g mascarpone cheese, at room temperature
8 slices salami Milano
6 slices Parma ham
8 slices bresaola
to taste salt and pepper
Weight Converter
Found in This Book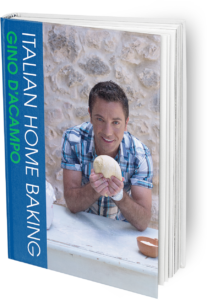 Feast your eyes on the finest pizza stuffed with mascarpone, salami milano, bresaola and parma ham! It's straightforward and fun to make this great dish. Simply follow the instructions below and get the perfect result.
Step By Step
Brush a large baking tray and the inside of a large bowl with oil.
To prepare the dough, put the flour, yeast and salt into a large bowl, make a well in the centre and pour in the water with 1 tablespoon of oil. Use a wooden spoon to mix everything together to create a wet dough.
Turn out the dough onto a well-floured surface and work it with your hands for about 5 minutes or until smooth and elastic. Place in the oiled bowl, brush the top with a little oil and cover with clingfilm. Leave to rest at room temperature for 25 minutes.
Preheat the oven to 200°C/gas mark 6.
Once rested, turn out the dough onto a well-floured surface and divide it into two equal halves. Use your hands to push each one out from the centre, to create 2 round discs about 20cm in diameter.
Place 1 disc on the oiled baking tray. Spread the mascarpone cheese on top of the pizza using the back of a tablespoon, and season with salt and pepper. Top with the salami, bresaola and Parma ham, distributing the meats evenly.
Gently lift the second disc and place it on top of the filled one. Bring together the edges to enclose the filling. Pinch to seal and turn over the edges to create a rope-like effect.
Brush the surface of the filled pizza disc with oil. Cook in the middle of the oven for 18 minutes, until golden brown. Serve hot with a big glass of Italian dry red wine.
Once you're done, simply sit back and enjoy your pizza stuffed with mascarpone, salami milano, bresaola and parma ham and don't forget to check out other great authentic Italian recipes including great antipasti recipes, Italian pasta recipes, Italian soup recipes, Italian beef dishes and authentic pizza recipes.
Next Recipe
Four Seasons Pizza Topped with Ham, Artichokes, Mushrooms and Olives
View Recipe