Pizza Fiorentina
Pizza with Mozzarella, Spinach, Egg & Parmesan
About This Recipe
Are you looking for a delicious recipe with a difference? If you are, you've found it! Here's my pizza with mozzarella, spinach, egg & parmesan for you to enjoy.
The Fiorentina is a firm favourite in the D'Acampo house, and always creates arguments over who gets the last piece. (My eldest son Luciano normally wins.) It's the healthiest pizza you can find, and this true classic from Florence is a great way of getting the whole family eating their greens.
Ingredients
Pizza Base
5 tablespoons extra virgin olive oil, plus extra for brushing
200g strong white flour, plus extra for dusting
7g fast-action dried yeast
pinch of salt
140ml warm water
Pizza Topping
300g frozen spinach, defrosted
2 mozzarella balls, drained and cut into small cubes
2 really fresh eggs
60g freshly-grated Parmesan cheese
Weight Converter
Found in This Book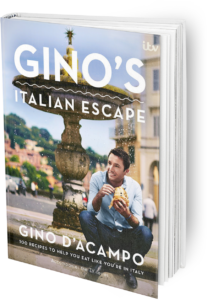 Feast your eyes on the finest pizza with mozzarella, spinach, egg & parmesan! It's straightforward and fun to make this great dish. Simply follow the instructions below and get the perfect result.
Step By Step
Prepare 2 baking trays by pouring a tablespoon of oil on each and spreading it out with your fingers or a pastry brush. Brush the inside of a large bowl with 1 tablespoon of oil and set aside.
To prepare the dough, place the flour, yeast and salt in a large clean bowl, make a well in the centre and pour in the water plus 2 tablespoons of the oil. Mix with a wooden spoon to create a wet dough.
Turn the dough onto a clean, well-floured surface and work it with your hands for about 5 minutes until smooth and elastic. Shape into a large ball and place in the oiled bowl. Brush the top of the dough with a little oil and cover with cling film. Leave to rest at room temperature for 20 minutes.
Preheat the oven to 200ºC/gas mark 6.
Squeeze the spinach for the topping between your hands to remove any excess water. Set aside.
Turn the rested dough onto a well-floured surface and divide it in half. Roll each piece into a ball, then push outwards from the centre to create 2 circles about 25cm in diameter. Place them on the oiled baking trays.
Brush the top of each pizza base with 2 tablespoons of oil, then scatter with the mozzarella and spinach, leaving an empty 5cm circle in the centre.
Bake in the middle of the oven for 8 minutes.
Remove the trays from the oven and crack an egg into the centre of each pizza. Continue baking for a further 8 minutes, scattering the Parmesan over the top 2 minutes before the end of the cooking time.
Serve and enjoy hot.
Once you're done, simply sit back and enjoy your pizza with mozzarella, spinach, egg & parmesan and don't forget to check out other great authentic Italian recipes including great antipasti recipes, Italian pasta recipes, Italian soup recipes, Italian beef dishes and authentic pizza recipes.
Previous Recipe
Pizza Tray with Anchovies, Courgettes, Garlic & Chilli
View Recipe