Dolce con pere e banane
Pear & Banana Sweet Bread
About This Recipe
Are you looking for a delicious recipe with a difference? If you are, you've found it! Here's my pear & banana sweet bread for you to enjoy.
My wife often used to go out and buy small brioches or sweet breads as a snack for the kids, until I created this recipe; now my pear and banana bread is baked at least once every ten days in the D'Acampo household. The process is so quick and easy but the effect is very wow. It is absolutely delicious and never lasts more than twenty-four hours in our house. We've eaten it for breakfast, snacks or even when having people over for tea, and no one can believe how easy it is to make when they are given the recipe. You can replace the pears with mangoes if you prefer, but if you are being creative with fruit, make sure you do not use one that is too juicy, like an orange.
Ingredients
140g salted butter at room temperature, plus extra for greasing
150g soft brown sugar
2 eggs, beaten
2 ripe large bananas, mashed
2 ripe pears, peeled, core removed, cut into 1cm cubes
100g pistachio nuts, roughly chopped
250g strong white flour
1 tablespoon baking powder
Pinch of salt
2 teaspoons vanilla extract
Weight Converter
Found in This Book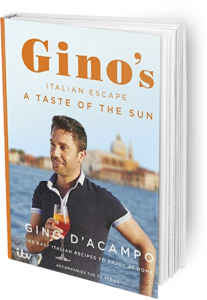 Feast your eyes on the finest pear & banana sweet bread! It's straightforward and fun to make this great dish. Simply follow the instructions below and get the perfect result.
Step By Step
Preheat the oven to 180°C/gas mark 4. Grease a 1kg loaf tin with butter and line the base with baking parchment.
Cream the butter and sugar in a large bowl and whisk together until fluffy and pale in colour. In three stages, pour in the eggs, whisking well after each addition. Add the bananas, pears and pistachios to the mixture. Sift the flour and baking powder onto the mixture and add in the salt. Add the vanilla extract and gently fold everything together until all the ingredients are just combined.
Transfer the mixture to the prepared tin and bake in the middle of the oven for 55 minutes. To check if it is cooked, insert a piece of dry spaghetti into the middle of the cake; if it comes out clean and dry, it's ready. If not, cook it for a few more minutes.
Turn the sweet bread out onto a wire rack to cool and enjoy with your favourite cup of coffee.
Once you're done, simply sit back and enjoy your pear & banana sweet bread and don't forget to check out other great authentic Italian recipes including great antipasti recipes, Italian pasta recipes, Italian soup recipes, Italian beef dishes and authentic pizza recipes.
Next Recipe
Polenta Cake with Oranges & Cointreau
View Recipe