Linguine ai Gamberi e Rucola
Pasta Ribbons with Prawns and Rocket
About This Recipe
Are you looking for a delicious seafood recipe with a difference? If you are, you've found it! Here's my pasta ribbons with prawns and rocket for you to enjoy.
This is one of my signature dishes, created in the summer of 2003 on the island of Sardinia where my family and I were enjoying our holiday in our house on the beach. Make sure that you serve this dish as soon as you combine the pasta and the sauce. You can substitute the prawns for scallops.
Ingredients
5 tablespoons olive oil
2 garlic cloves, finely sliced
50g pine nuts
1 medium-hot red chilli, finely sliced and deseeded
300g large fresh raw prawns, peeled, heads and tails removed
1⁄2 glass dry white wine
3 tablespoons finely sliced fresh basil
500g linguine
100g rocket leaves
Salt
Weight Converter
Found in This Book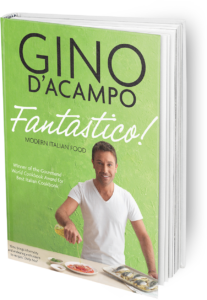 Feast your eyes on the finest pasta ribbons with prawns and rocket! It's straightforward and fun to make this great dish. Simply follow the instructions below and get the perfect result.
Step By Step
Heat the olive oil in a large frying pan and shallow-fry the garlic, pine nuts and chilli for about 20 seconds, then add the prawns and cook for about 1 minute.
Add the wine and basil, season with salt and simmer over a high heat for about 2 minutes. Remove the pan from the heat.
Meanwhile, cook the pasta in a large pan of boiling salted water until al dente. Drain and add to the frying pan.
Return the frying pan to a high heat and immediately add in the rocket leaves, mix well for about 1 minute to allow the rocket to soften slightly and the pasta to absorb the flavour.
Serve immediately.
Once you're done, simply sit back and enjoy your pasta ribbons with prawns and rocket and don't forget to check out other great authentic Italian recipes including great antipasti recipes, Italian pasta recipes, Italian soup recipes, Italian beef dishes and authentic pizza recipes.
Previous Recipe
Four Seasons Pizza Topped with Ham, Artichokes, Mushrooms and Olives
View Recipe