Fusili con ragu di coniglio
Pasta with Rabbit Ragu
About This Recipe
Are you looking for a delicious rabbit recipe with a difference? If you are, you've found it! Here's my pasta with rabbit ragu for you to enjoy.
This recipe is very different and worth a try. The flavours are unique compared to what you and your family are probably used to and it really is a wonderful, rich way to make a ragù. Please, whatever you do, don't just throw away the discarded vegetables. Place them in a saucepan with some passata (sieved tomatoes) and heat it through; then you have created a sauce that can be used to top fish baked in foil or served with pasta another time.
Ingredients
4 rabbit legs (around 800g in total)
Salt and black pepper to taste
1 tablespoon salted butter
60ml olive oil
1 carrot, peeled & finely chopped
1 onion, peeled & finely chopped
1 celery stick, finely chopped
1 tablespoon fresh thyme leaves
2 tablespoons tomato purée
800ml white wine
250ml chicken stock, made from stock cubes
2 tablespoons fresh flat leaf parsley, chopped
10 cherry tomatoes, cut into quarters
500g fresh fusili lunghi
80g freshly grated Pecorino cheese to serve
Weight Converter
Found in This Book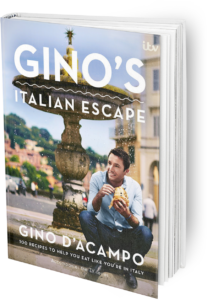 Feast your eyes on the finest pasta with rabbit ragu! It's straightforward and fun to make this great dish. Simply follow the instructions below and get the perfect result.
Step By Step
Season the rabbit legs and set aside. Melt the butter with the oil in a medium saucepan and fry the rabbit legs for 5 minutes on a medium heat, until browned on all sides. Remove the meat from the saucepan and set aside.
Add the carrot, onion and celery to the saucepan with the thyme and fry for 5 minutes until the vegetables have softened, stirring occasionally. Return the rabbit legs to the saucepan with the tomato purée and continue to cook for 2 minutes. Pour in the wine and cook for 2 minutes to allow the alcohol to evaporate. Pour in enough chicken stock to cover all the ingredients in the saucepan, cover with a lid and cook on a low heat for 45 minutes. Every 10 minutes stir the ingredients with a wooden spoon.
Remove the rabbit legs and set aside until cool enough to handle. Lightly shred the meat and discard the bones. Strain the stock, discarding the vegetables, and transfer to a clean frying pan. Add the rabbit pieces, parsley and cherry tomatoes to the stock, place over a medium heat and simmer for a few minutes until the sauce is reduced and thick.
Bring a large saucepan of salted water to the boil and cook the fresh fusilli for about 3 minutes, until al dente. Drain and return to the saucepan. Place the pan on a medium heat and pour over the rabbit ragù. Mix everything together for 10 seconds, allowing the flavours to combine beautifully and the sauce to stick to the pasta. Check for seasoning one more time and serve immediately with Pecorino sprinkled on top.
Once you're done, simply sit back and enjoy your pasta with rabbit ragu and don't forget to check out other great authentic Italian recipes including great antipasti recipes, Italian pasta recipes, Italian soup recipes, Italian beef dishes and authentic pizza recipes.
Previous Recipe
Linguine with Anchovies, Chilli & Garlic
View Recipe
Next Recipe
Pasta Bake with Smoked Salmon, Fontina & Peas
View Recipe