Zuppa di Cipolle e Pancetta
Onion, Tomato and Pancetta Soup
About This Recipe
Are you looking for a delicious pork recipe with a difference? If you are, you've found it! Here's my onion, tomato and pancetta soup for you to enjoy.
By far – and I really mean by far – this has to be my favourite soup recipe in any of my books. If you like onion soup, this is so much more – in fact, I don't know anyone who has tried it and not loved it. I think you will be amazed at the flavour combinations. Make sure it is always served hot. It will keep refrigerated for 48 hours, but remember, like most soups, it can be reheated only once.
Ingredients
4 tablespoons extra virgin olive oil
250g diced pancetta
700g white onions, peeled and finely sliced
1.5 litres chicken stock, made with stock cubes
1 x 400g tin chopped tomatoes
to taste salt and black pepper
4 tablespoons fresh parmesan cheese shavings
6 fresh basil leaves
to serve warm crusty bread
Weight Converter
Found in This Book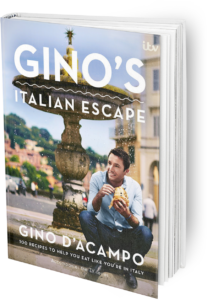 Feast your eyes on the finest onion, tomato and pancetta soup! It's straightforward and fun to make this great dish. Simply follow the instructions below and get the perfect result.
Step By Step
Place a large saucepan over a medium heat, pour in the oil and fry the pancetta for 3 minutes, stirring constantly with a wooden spoon.
Add the onions and stir everything together. Lower the heat and cook for 20 minutes, stirring occasionally.
When the onions are a beautiful golden colour, pour in the stock and tomatoes. Bring to the boil, then lower the heat, half-cover the pan and simmer for 40 minutes, stirring occasionally.
About 5 minutes before the cooking time is up, check the consistency of the soup and add a little more water if it is too thick.
Just before serving, taste and season with salt and pepper, if needed (the pancetta may already have added enough saltiness).
Serve hot, with Parmesan shavings and basil leaves sprinkled on top, and slices of warm crusty bread.
Once you're done, simply sit back and enjoy your onion, tomato and pancetta soup and don't forget to check out other great authentic Italian recipes including great antipasti recipes, Italian pasta recipes, Italian soup recipes, Italian beef dishes and authentic pizza recipes.
Previous Recipe
Bruschette with Sun-dried Tomato Pesto
View Recipe
Next Recipe
Braised scallops with peas and sun-dried tomatoes
View Recipe