Risotto con porri, Taleggio e pinoli
Leek, Taleggio and Pine Kernel Risotto
About This Recipe
Are you looking for a delicious cheese recipe with a difference? If you are, you've found it! Here's my leek, taleggio and pine kernel risotto for you to enjoy.
Leeks make a fantastic alternative to onions, and yet many people only use them in soups. I got inspiration for this recipe while I was in Siena; I was served a bowl of leeks, cheese, nuts and sausages (which is also a great sauce for pasta) and I wanted to try and incorporate the same flavours in a risotto. I have left this as a vegetarian option, but by all means add in some cooked pancetta or sausage meat if you wish. I have tried this recipe using goat's cheese, which is also great, but if you do this, the recipe works better if it is kept meat-free.
Ingredients
100g salted butter
120ml olive oil
200g leeks, finely chopped
400g Arborio or Carnaroli rice
4 sprigs leaves from fresh thyme sprigs
150ml white wine
1.3 litres vegetable stock, hot, made with stock cubes
60g pine kernels
200g Taleggio cheese, roughly chopped, rind removed
to taste salt and black pepper
Weight Converter
Found in This Book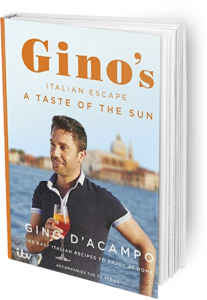 Feast your eyes on the finest leek, taleggio and pine kernel risotto! It's straightforward and fun to make this great dish. Simply follow the instructions below and get the perfect result.
Step By Step
Melt half of the butter with the oil in a large heavy-based saucepan over a medium heat, then fry the leeks for 3 minutes until soft but not browned, stirring with a wooden spoon.
Add the rice with the thyme leaves and fry for 3 minutes, stirring continuously, to allow the rice to toast. Pour the wine over and continue to cook for a further minute to allow the alcohol to evaporate.
Add a couple of ladles of stock and bring to a simmer. Continue to cook and stir until all the stock is absorbed. At this point, please stay with the saucepan because you need to keep stirring as you pour in the rest of the stock, a little at a time, cooking until each addition is absorbed. It is ready when all the liquid has been absorbed and the rice is cooked but still has a slight bite. This will take 15–17 minutes (you may not need all the stock).
Take the pan off the heat and add in the pine kernels, the remaining butter and the Taleggio. Stir everything together for 30 seconds to allow the risotto to become creamy. Season with salt and pepper and serve immediately.
Once you're done, simply sit back and enjoy your leek, taleggio and pine kernel risotto and don't forget to check out other great authentic Italian recipes including great antipasti recipes, Italian pasta recipes, Italian soup recipes, Italian beef dishes and authentic pizza recipes.
Previous Recipe
Rabbit in white wine, rosemary, olive and tomato sauce
View Recipe
Next Recipe
Grilled Mackerel with Fennel Seeds and Balsamic Vinegar
View Recipe