La Caprese di zia Rita
My Auntie Rita's Pistachio and Chocolate Cake
About This Recipe
Are you looking for a delicious chocolate recipe with a difference? If you are, you've found it! Here's my my auntie rita's pistachio and chocolate cake for you to enjoy.
Sometimes my Auntie Rita made this cake for me and my sister as an after-school treat. It's great for teatime, perfect as a dessert, and amazing if you have any gluten-free friends coming round.
Ingredients
80g shelled pistachio nuts
100g salted butter, plus extra for greasing
250g good-quality dark chocolate (70% cocoa solids)
4 eggs, separated
160g icing sugar, plus extra for dusting
150g ground almonds
Weight Converter
Found in This Book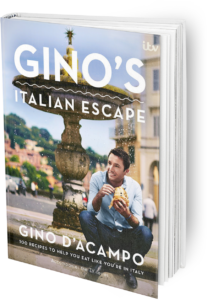 Feast your eyes on the finest my auntie rita's pistachio and chocolate cake! It's straightforward and fun to make this great dish. Simply follow the instructions below and get the perfect result.
Step By Step
Put the pistachios in a heatproof bowl, cover with boiling water and leave to soak for 3 minutes. Drain and peel off the skin, then roughly chop.
Preheat the oven to 180ºC/gas mark 4 and grease a 23cm shallow, loosebottomed cake tin.
Melt the butter and chocolate in a large bowl set over a pan of simmering water (the bowl must not actually touch the water). In a separate large bowl, whisk the egg yolks and icing sugar until fluffy and pale in colour. In another large, dry bowl, whisk the egg whites until stiff.
Pour the melted chocolate into the yolk mixture and stir well. Mix in the almonds and chopped pistachios, then gently fold in the egg whites with a metal spoon.
Pour the mixture into the prepared tin and bake in the middle of the oven for 30 minutes until a skewer inserted in the centre comes out clean.
Let the cake rest for 10 minutes, then unmould onto a plate. Slice and serve at room temperature, dusted with icing sugar. A tablespoon of mascarpone or double cream and a little glass of Vin Santo are lovely accompaniments.
Once you're done, simply sit back and enjoy your my auntie rita's pistachio and chocolate cake and don't forget to check out other great authentic Italian recipes including great antipasti recipes, Italian pasta recipes, Italian soup recipes, Italian beef dishes and authentic pizza recipes.
Previous Recipe
Sweet Pasta filled with Ricotta, Hazelnuts, Orange and Chocolate
View Recipe