Bellini in Gelatina
Fresh Blackberry and Prosecco Jelly
About This Recipe
Are you looking for a delicious blackberries recipe with a difference? If you are, you've found it! Here's my fresh blackberry and prosecco jelly for you to enjoy.
This has to be the most stylish and yet easy dessert that you will ever make. Not only can you use this dish as a dessert, but you can also serve it as a great aperitif. You can substitute the Prosecco for a good Champagne and if you don't want to use blackberries, you can use fresh strawberries. If you want to make fresh strawberry purée, just blitz 50g of fresh strawberries with 1 tablespoon of cold water and 1 teaspoon of honey into a smooth purée. Once the dessert is ready, you can decorate the jellies with a touch of whipped cream on top.
Ingredients
130g caster sugar
Zest and juice of 1 unwaxed lemon
4 teaspoons powdered gelatine
50g strawberry purée
450ml Prosecco
180g blackberries
Weight Converter
Found in This Book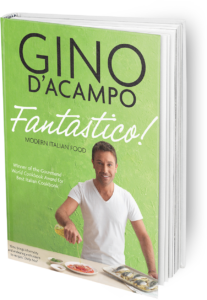 Feast your eyes on the finest fresh blackberry and prosecco jelly! It's straightforward and fun to make this great dish. Simply follow the instructions below and get the perfect result.
Step By Step
Put the sugar in a medium saucepan with 300ml of water and the lemon zest. Heat gently until the sugar has dissolved. Remove from the heat, leave to cool and discard the lemon zest.
Put the lemon juice in a small bowl and sprinkle in the powdered gelatine. Leave to soak for 3–4 minutes. Place the bowl over a pan of gently simmering water, ensuring that the base of the bowl does not touch the water, for a couple of minutes until the gelatine has completely dissolved.
Stir the gelatine into the sugar syrup together with the strawberry purée and the Prosecco. Mix well.
Meanwhile, share out three quarters of the blackberries among six Champagne glasses and carefully pour over enough of the liquid jelly to cover the fruit and chill until set. When the jelly has set, pour over the remaining liquid jelly to the top of the glass and refrigerate for 5 hours until completely set.
Decorate with the reserved blackberries and serve.
Once you're done, simply sit back and enjoy your fresh blackberry and prosecco jelly and don't forget to check out other great authentic Italian recipes including great antipasti recipes, Italian pasta recipes, Italian soup recipes, Italian beef dishes and authentic pizza recipes.
Previous Recipe
Limoncello and Lime Granita
View Recipe