Insalata di Couscous con Olive e Asparagi
Couscous Salad With Olives, Asparagus & Grana Padano
About This Recipe
Are you looking for a delicious couscous recipe with a difference? If you are, you've found it! Here's my couscous salad with olives, asparagus & grana padano for you to enjoy.
Couscous is so easy to prepare, but it does need the addition of some really good flavours to make it come to life. This rainbow salad is a fantastic source of vitamin C and is surprisingly filling. It's great as a main course or you can reduce the quantities and serve it as a side with barbecued meats or grilled fish.
Ingredients
350ml Vegetable Stock
250g Couscous
100g Asparagus Tips
1 Yellow Pepper, Deseeded, Cut Into Thin Strips
10 Cherry Tomatoes, Quartered
50g Pitted Black Olives, Drained & Roughly Chopped
50g Grana Padano Cheese, Coarsely Grated
4 tablespoons Fresh Chives, Chopped
For The Dressing
6 Tablespoons Extra Virgin Olive Oil
2 Tablespoons Red Wine Vinegar
1 Teaspoon English Mustard
To Taste Salt
To Taste Freshly Ground Black Pepper
Weight Converter
Found in This Book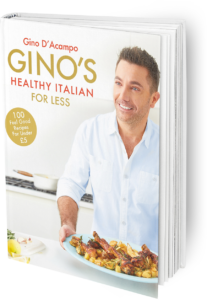 Feast your eyes on the finest couscous salad with olives, asparagus & grana padano! It's straightforward and fun to make this great dish. Simply follow the instructions below and get the perfect result.
Step By Step
Pour the vegetable stock into a medium lidded saucepan and bring to the boil. Add the couscous and stir. Cover, reduce the heat and simmer for 5 minutes or until all the water has been absorbed. Remove from the heat and leave to stand with the lid on for 10 minutes. Uncover and fluff the couscous up with a fork, then set aside to cool.
Meanwhile, bring a medium saucepan of salted water to the boil. Drop in the asparagus and cook for 3 minutes. Drain and drop into cold water to refresh them – this keeps them crunchy and retains their beautiful green colour. Drain and chop into 2cm pieces and put into a large bowl.
Add the pepper, tomatoes, olives, Grana Padano and chives to the asparagus. Set aside.
To make the dressing, pour the extra virgin olive oil, vinegar and mustard into a small bowl. Season with salt and pepper and whisk to combine. Pour the dressing into the bowl over the vegetables.
Add the cooled couscous and stir all together. Serve on a large platter with a few cold beers.
Per serving
Kcal 502
Fat 25g
Saturates 5g
Carbs 53g
Sugars 6g
Fibre 6g
Protein 15g
Salt 0.8g
Once you're done, simply sit back and enjoy your couscous salad with olives, asparagus & grana padano and don't forget to check out other great authentic Italian recipes including great antipasti recipes, Italian pasta recipes, Italian soup recipes, Italian beef dishes and authentic pizza recipes.
Previous Recipe
Chicken Breasts in Creamy Sage & Lime Sauce
View Recipe
Next Recipe
Lemon Chicken With Honey & Rosemary
View Recipe