Torta di cioccolato e fragole
Chocolate & Fresh Strawberry Cake
About This Recipe
Are you looking for a delicious chocolate recipe with a difference? If you are, you've found it! Here's my chocolate & fresh strawberry cake for you to enjoy.
Italians from the south don't bake cakes all that often but my sister Marcella makes this for me whenever I visit and I love it. The combination of moist chocolate cake and fresh strawberries is wonderful and I can never only have one slice; in fact there is always a fight over who gets the last piece (I normally win!) The cake is also fantastico made with raspberries!
Ingredients
150g Plus Extra For Greasing Low-Fat Spread
130g Caster Sugar
1/2 Teaspoon Ground Cinnamon
1 1/2 Teaspoons Baking Powder
2 Eggs, Medium
100g Self-Raising Flour
3 Tablespoons Cocoa Powder
250g Fresh Strawberries, Hulled
130g Natural Yoghurt, Low-Fat, Thick
1 Tablespoon Icing Sugar
1 Cadbury's Flake, Crushed, To Decorate
Weight Converter
Found in This Book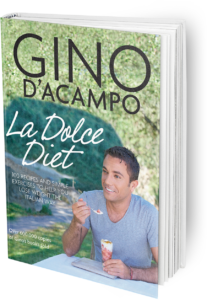 Feast your eyes on the finest chocolate & fresh strawberry cake! It's straightforward and fun to make this great dish. Simply follow the instructions below and get the perfect result.
Step By Step
1. Preheat the oven to 190°C/gas mark 5. Lightly grease a 20cm square tin cake and line the base and sides with baking parchment. Put the spread, caster sugar, cinnamon, baking powder and eggs in a large bowl. Sift the flour and cocoa powder into the bowl. Beat with an electric whisk until the mixture is smooth.
2. Pour the cake mixture into the prepared tin and level the surface. Transfer to the middle of the oven and bake for 25 minutes. Remove from the oven and leave the cake to cool slightly in the tin before transferring to a wire rack to cool completely.
3. Halve the strawberries then reserve about a quarter of them on a plate. Place the rest in a medium bowl. Add the yogurt and the icing sugar and gently fold everything together.
4. Spoon the strawberry mixture over the chocolate sponge and decorate the top with the reserved strawberry halves. Sprinkle over the chocolate flake and serve with your favourite hot drink.
Once you're done, simply sit back and enjoy your chocolate & fresh strawberry cake and don't forget to check out other great authentic Italian recipes including great antipasti recipes, Italian pasta recipes, Italian soup recipes, Italian beef dishes and authentic pizza recipes.
Previous Recipe
Chocolate and Rum Bread & Butter Pudding
View Recipe
Next Recipe
Sticky Banana and Chocolate Tart
View Recipe