Bucatini with eggs, pancetta and Pecorino Romano
Bucatini alla Carbonara
About This Recipe
Are you looking for a delicious pork recipe with a difference? If you are, you've found it! Here's my bucatini alla carbonara for you to enjoy.
This has to be one of my favourite recipes ever, especially with this shape of pasta. Bucatini is like a thick spaghetti with a hole in the middle that runs from one end to the other. This allows the sauce to really coat the pasta inside and out beautifully. If you are a fan of a simple spaghetti dish, I recommend you try this traditional Roman recipe. You can substitute the pancetta with streaky bacon but please, never add cream to this sauce.
Ingredients
250g piece smoked pancetta
2 tablespoons extra virgin olive oil
15g salted butter
4 eggs
4 tablespoons freshly grated Pecorino Romano
4 tablespoons finely chopped fresh flat leaf parsley
500g bucatini
to taste salt and pepper
Weight Converter
Found in This Book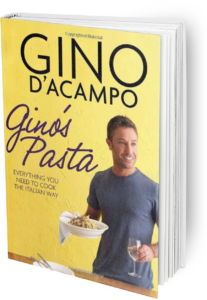 Feast your eyes on the finest bucatini alla carbonara! It's straightforward and fun to make this great dish. Simply follow the instructions below and get the perfect result.
Step By Step
Cut the pancetta into short little strips about 0.5cm wide.
Heat the oil and butter in a large frying pan or wok over a medium heat and fry the pancetta for about 5 minutes until golden and crispy. Stir occasionally and, once ready, remove from the heat and set aside.
Whisk the eggs in a bowl with half of the cheese. Add in the parsley and plenty of black pepper.
Cook the pasta in a large saucepan of boiling salted water until al dente. Drain and tip back into the saucepan.
Add in the pancetta and pour over the egg mixture. Mix everything together for 30 seconds with a wooden spoon. (The heat from the pasta will be sufficient to cook the egg to a creamy texture.)
Season with salt and pepper and serve immediately with the remaining cheese sprinkled on top.
Once you're done, simply sit back and enjoy your bucatini alla carbonara and don't forget to check out other great authentic Italian recipes including great antipasti recipes, Italian pasta recipes, Italian soup recipes, Italian beef dishes and authentic pizza recipes.
Next Recipe
Pasta salad with walnuts and Gorgonzola cheese
View Recipe