Panna Cotta al Baileys
Baileys Panna Cotta
About This Recipe
Are you looking for a delicious recipe with a difference? If you are, you've found it! Here's my baileys panna cotta for you to enjoy.
Like most great concoctions, this dessert was created by chance when my wife bought a bottle of Baileys liqueur for one of our dinner guests. I thought I'd try it in the panna cotta I was making… All I can say is 'wow'!
Ingredients
175g granulated sugar
600ml semi-skimmed milk
2 teaspoons vanilla extract
4 eggs, plus 4 egg yolks
60g caster sugar
100ml Baileys liqueur
Weight Converter
Found in This Book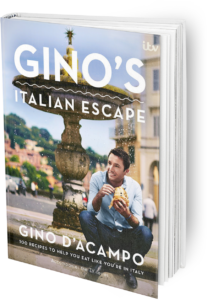 Feast your eyes on the finest baileys panna cotta! It's straightforward and fun to make this great dish. Simply follow the instructions below and get the perfect result.
Step By Step
Place the granulated sugar in a large saucepan over a low heat, slowly stirring with a wooden spoon until the sugar has dissolved. Bring to the boil and bubble for 2–3 minutes until the mixture turns a pale caramel colour. Pour it into 6 ramekins, tilting them so that the caramel coats the bottom and halfway up the sides. Set aside to cool.
Preheat the oven to 160ºC/gas mark 3.
Pour the milk into a saucepan, add the vanilla extract and heat until almost boiling. Set aside to cool slightly.
Beat the eggs, egg yolks and caster sugar together in a large bowl. Pour into the milk along with the Baileys and whisk together.
Divide the milk mixture between the ramekins and place them in a roasting tin. Pour in enough cold water to come halfway up the side of the dishes, then place in the oven for 25 minutes until set, or until a skewer inserted into the centre comes out clean. Remove the ramekins from the roasting tin and set aside to cool.
When ready to serve, run a sharp knife around the edge of each panna cotta, place a small plate over the top and flip over.
Serve the panna cotta with the caramel poured around it.
Once you're done, simply sit back and enjoy your baileys panna cotta and don't forget to check out other great authentic Italian recipes including great antipasti recipes, Italian pasta recipes, Italian soup recipes, Italian beef dishes and authentic pizza recipes.
Previous Recipe
Easy Sour Cherry Ice Cream with Amaretto Sauce
View Recipe